RACETIME RADIO LIVE MONDAY NIGHT ON SIRIUS-XM
Smokin' Joe Chisholm, Little Joe and Sue are coming back for another round at Flamboro Speedway on Monday night, August 20th. Canada's racing authority will again go live from Hamilton's asphalt arena, this time sharing the wild excitement of the GOLD RUSH 100 with flag to flag coverage on Sirius-XM Channel 157 Sports Express, presented by Shell Rotella and other supporting partners of RaceTime Radio. The Gold Rush will be the third Flamboro Speedway race brought to air by RaceTime Radio, following two installments of the Grisdale Triple Crown tournament. The broadcast is scheduled to go live at 8:00pm on Monday night.
In an earlier episode of the RaceTime Radio show Smokin' Joe Chisholm caught up with NASCAR star Kenny Wallace who will enter the Gold Rush 100 driving for Shane Gowan in the Lucas Oil Dodge. Hear a clip of their conversation, available on the Flamboro Speedway media page, or look up the past broadcast at RaceTime Radio.
*NEW* Check out the RaceTime Radio produced commercial spot for the GoldRush 100, airing now on Sirius-XM Channel 157 Sports Express, available on the media page..
EXCLUSIVE PRIZES FOR ADVANCE TICKET HOLDERS
Grand Prize: A Daytona Speedweeks Experience with Have Bus Will Travel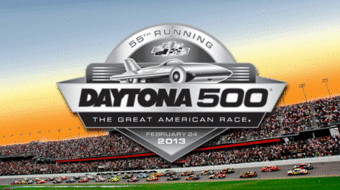 In an unprecedented offer, Flamboro Speedway has put together a series of exclusive prizes for advance ticket holders of the Gold Rush 100 event on Monday August 20th. First announced on July 7th at the second round of the Grisdale Triple Crown tournament Flamboro Speedway has posted three draw prizes to be awarded at the Monday night special presentation. The draw will be held at the Gold Rush event, exclusive to advance ticket holders. Third Prize is two pairs of adult weekend passes to the annual Oktoberfest Classic event at Flamboro Speedway, a $160 value; Second Prize is a set of four passenger tires from Grisdale Racing Products, a value of $600; and the Grand Prize offer is a one week stay in Daytona Beach for two with Have Bus Will Travel racing tours, valued at nearly $4,000, from February 18 to February 25 2013, participating in a number of special speedweeks events including tickets to the great Amercian race, the Daytona 500!
Advance tickets are available at the speedway box office. Pit side tickets are valued at $40 each; General Grandstand admission tickets are valued at $30 each. For more information call promoter John Casale, 905-689-6052.
NASCAR STAR ENTERS SPEEDWAY "GOLD RUSH"
Kenny Wallace Registered to Drive the Lucas Oil Dodge
In an event promoted as an old-West style gunslingers shootout for race cars, it's really no surprise that the Flamboro Speedway GOLD RUSH scheduled for Monday August 20th has captured the attention of a hired gun; But no one suspected an ace like NASCAR's the "Herminator".
The 100-lap stock car event on the third-mile oval in Hamilton's "asphalt arena" was already expected to attract the top names in Ontario Late Model racing, the premier class of short track competition at the grassroots level. Past provincial champions David Elliott and Stompin' Tom Walters have been rumoured to compete, as well as local favourites and past track champions the "King of Speed" Jason Shaw and "Hurricane" Paul Howse. But Ontario's top talent will now be put to the test against a driver who has more than 300 starts in NASCAR's premier tour, the Sprint Cup Series.
Kenny Wallace won the first race he ever entered. It was 1982, and the youngest member of the racing Wallace family, a longtime mechanic and crew member for his brothers Rusty and Mike, took the checkered flag in the Illinois Street Stock State Championship.
30 years and thousands of racing miles later, the man who pushed Dale Earnhardt to his final win in 2000 at Talladega Super Speedway will come to Hamilton in search of another trophy and a trip to a Canadian victory lane.
Said Flamboro Speedway promoter John Casale, "We're thrilled to have Kenny be a part of this Gold Rush event. We wanted this show to be set apart from our regular season, to be a special event for fans and for drivers, and his [Kenny's] participation takes it to another level. He's a great racer, a great ambassador for the sport and we're proud to have him racing with us."
NASCAR fans know Kenny as the "Herminator", a twist on his grassroots nickname given to him many years ago by Lake Hill Speedway track promoter Bob Miller. It was Kenny's boisterous behavior in his early days in the grassroots ranks that caught the attention of the promoter, who started calling him "Herman," after a mischievous cartoon character named Herman the German. The nickname has stuck through Kenny's rise through the racing ranks and his career as a broadcaster. He is the co-host of two programs for SPEED TV each week; NASCAR RaceDay, which airs before the Sprint Cup race each week, and NASCAR Victory Lane, which extends post-race coverage. With Kenny's competitive battles on the racetrack and popularity on television, he has become one of the most sought after drivers in NASCAR racing today for sponsor endorsements and speaking engagements, and is the NASCAR leader in Twitter followers and social media engagement.
Kenny Wallace will enter the event in the #39 Lucas Oil Dodge owned by Brantford resident Shane Gowan. Shane and his father Ray Gowan, better recognized around the speedway as "Smoker", are long time competitors in the Grisdale Late Model class. Ray is also a past track champion.
The grandstand gates are scheduled to open at 5:00pm on Monday August 20th at the speedway, and Kenny Wallace will be available to sign autographs for approximately one hour beginning at 5:30. In partnership with the speedway's community support efforts, fans will be asked to make a $5 donation for each autograph with full proceeds to be donated to Ronald McDonald House Hamilton. Flamboro Speedway has been working to support the recent expansion efforts of the locally based facility that provides accommodations and comfort for families whose children are undergoing procedures and care at the McMaster Childrens' Hospital.
Advanced tickets for the main grandstand will go on sale beginning Saturday July 7th at the Grisdale Triple Crown Late Model event, available at the Flamboro Speedway box office. Adult tickets will be $30, and advanced ticket holders will have exclusive access to special prize draws held at the GOLD RUSH event, and will have line bypass the day of the event providing them with early opportunity to enter the autograph queue. Autographs will be run on a first come, first served, to an approximate 60 minute time limit.
Following the autograph session the drivers meeting is tentatively schedule for 6:30pm, with time trial qualifying scheduled for a 7pm start. The main event – a 100 lap race – has the green flag scheduled to fly at 8:15pm. Only the top 24 qualifiers will earn a place on the starting grid. The event pays $500 to start; $5,000 to win; and offers a $10,000 prize to the driver who can complete the GOLD RUSH Challenge – winning the race from the 24th starting position.
*******************************************************************************************************************************************************************************************************************
When it comes to racing, promotions and special events, most look to NASCAR as the international leader for direction. So if Monday night can work in Daytona, then why not in Hamilton?
Flamboro Speedway is excited to announce a new addition to the annual stock car racing event schedule, the MONDAY NIGHT GOLD RUSH. The end game is a $10,000 reward after 100 laps of grueling competition inside the asphalt arena, but the stakes are high in this racing challenge.
The night to mark on your calendar is Monday August 20th, with a 7pm start for qualifying and an expected 8:15pm green flag for the main event. It's an open Late Model event, where the Flamboro Speedway rule book will set the base standard for the premier competitors across the province and the northern border states. There are no racing points to be earned, no championships to consider. It's an all or nothing one-night event to race for the trophy, the glory, and the money.
At 7pm each competitor will take to the speedway to lay down a fast time in a 2-lap time trial. The top 16 entrants after trials will be guaranteed their starting spot in the main event, a heads up start with fastest to the front. The remaining entrants will be immediately entered into a last chance race for a 10-lap shootout to determine the final 8 who will fill the field.
Following qualifying the 24 car starting line-up will roll to the front straightaway for introductions, and the Gold Rush Challenge. Starting from the back row, each driver will be invited to forfeit his or her starting position and risk it all for a shot at a $10,000 payday. Only one driver can take the challenge and each time a higher qualified entrant accepts, the Gold Rush moves forward. The pole sitter will ultimately have final say on whether he or she will drop from 1st to last for the start, and a shot at doubling the posted purse.
At 100 laps of racing, and 16 second laps, to win the Gold Rush Challenge and take away $10,000, is almost $400 a minute. Ask yourself, what would you do to win the Gold Rush?
Said promoter John Casale, "We want to see a fight to the checkers, a real brawl like back in the day when it really meant something to win the purse… I know this is a tough track. It's fast and tough to pass. So I'll pay you $5,000 to walk away with a win after a hundred laps, but I'll double it if you can win from 24th."
This is a special event outside the speedway's regular schedule, so race teams will pay $50 to register to compete. However, 24th position in the main event guarantees $500 to start. One fast lap in time trials could guarantee 10x the registration fee coming back. It's one of the richest paydays in grassroots racing this summer. Speculation on entrants include past Flamboro Champions "King of Speed" Jason Shaw and Paul "Hurricane" Howse, as well as Canadian "Iron man" Gary Elliott, past provincial champion David Elliott, and past CASCAR champion J-R Fitzpatrick.
Now if we can just rent a jet dryer…