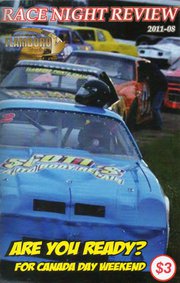 Joshua Paxton (The Marco Corporation) and Randy Spencer (Ontario Oval) and contributing partners will once again publish a weekly magazine to chronicle the racing action and adventures at Flamboro Speedway.

The newest format of the 'Race Night Review' made its debut in 2011, returning for the 50th anniversary celebration. The 5x8 black and white magazine with colour cover was a great success, with positive reviews from race fans and teams. Each week the Race Night Review recaps the previous event with photos by Dave Franks Photos and stories by Ontario Oval writer Randy Spencer. Next generation author Larissa Spencer is set to join the content team in 2012, adding her column "Fast Futures", a highlight of upcoming talent from the weekly racing divisions including the Waterloo Regional Kart Club.

Additional content includes: Stories from the archives of Flamboro Speedway's 50-year racing history; Behind the scenes interviews with speedway stars; Games and colouring pages for junior race fans; and weekly updates on point standings, race results and upcoming speedway events.

Purchase of the Race Night Review also offers race fans a chance to win great prizes from speedway sponsor partners in the weekly program prize draw. Program numbers are selected at random and announced over the P.A. system during the show (regularly at the intermission).

Check out Randy's collection of Race Night Review souvenir programs 2011 on Facebook - note, you'll have to be logged in. He's got many more where that came from, dating way back to the 1960s. Randy is one of Ontario's leading historians and collectors of all things stock car racing. See more history on his website Ontario Stock Car Racing History.
As an advertiser in the Race Night Review souvenir magazine you have the opportunity to change your content weekly at No Additional Charge. Your ad will be featured in each printed issue, sold exclusively at Flamboro Speedway. Approximately 100 copies are printed weekly, with additional copies produced for special events. The first program of the year will debut on the opening race weekend (scheduled for Saturday April 21) and the final issue will be printed for the Oktoberfest Classic Weekend (scheduled for Saturday October 6).
In addition to having your printed ad featured weekly, we will also design a virtual ad to run at random on our home page as part of the Flamboro Speedway Partners program. Your company web link will be added to our Partners page. You will also have the opportunity to provide promotional offers to our audience through the Special Offers page.
Advertising in the Program: Starting at just $100 for a Business Card ad; OR $300 for a Full Page ad;
Prices are for the season; Up to 25 Weeks of Printed Advertising! Up to 12 Months of Online Advertising! Space is limited.
Ads can be submitted as PDF, AI, MS Word or JPG files. Artwork must be received by Tuesday at Noon each week to be included in the following weekend's print production. If new artwork is not received, the ad on file will be used.
If you are interested in advertising in this year's souvenir magazine please contact JP at paxtonj@execulink.com
A downloadable JPG image follows below, or you can click here for the PDF version of this flyer.