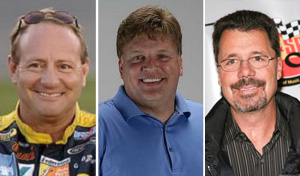 This Canada Day our historic asphalt arena, celebrating its 50th anniversary, will host yet another great event in Canadian motorsport history.
On a day when our nation will be in celebration, Flamboro Speedway will open its gates to three of the most recognized stars of NASCAR, the worlds leading stock car racing organization. Jimmy Spencer, Ken Schrader and Ernie Irvan will join a field of local competitors on July 1st to compete in a main event feature race.
To mark the occasion further, this will be the first time that the NASCAR stars compete in the Freedom Village Thunder Car class in Ontario, the intermediate division known for its full-contact driving style and ultra competitive roster.
All three NASCAR stars are recognized for their great racing achievements through the 1990's and early 2000's when the elite division ran under the Winston Cup banner, including Ernie Irvan's Daytona 500 win in 1991. With credentials reaching beyond on-track theatrics, race fans will also know Jimmy Spencer and Ken Schrader as hosts on the SPEED network, featured on programs like NASCAR Race Day and NASCAR Victory Lane.
In addition to the on-track excitement, race fans will be treated to a special Canada Day autograph session with the NASCAR stars prior to the racing program. Tentatively scheduled for 1pm, the autograph session behind the main grandstand will lead into the 2pm green flag that will kick-off the qualifying races. If Saturday night Thunder Car racing is any indication, then this Canada Day Race of Champions is sure to be a thrilling event with even more fireworks on the track than Ottawa will have in the skies. And it's only the start of the weekend. The following night, Saturday July 2nd, the province's premier racing class the Late Models will suit up for the second round of the Grisdale Triple Crown tournament.
Event Note: Two-time Daytona 500 champion Sterling Marlin was originally scheduled to participate in this event, but due to unforeseen and unavoidable personal commitments was forced to withdraw from the competition. We appreciate everyone's understanding of the situation, and we are thrilled that Swervin' Ernie Irvan was excited at the opportunity to fill the roster spot and join us on Canada Day.
RACE RESULTS - Click Here for the race results from the Canada Day Race of Champions
ADVANCE TICKET SALES
ONLINE SALES CLOSE AS OF 11:55pm on Tuesday, June 28
EVENT FORMAT & TENTATIVE SCHEDULE
Canada Day Race of Champions Format and printable PDF

Special Edition Interview, as recorded by RTR, June 28
- Smokin' Joe Chisholm RTR talks with 'Swervin' Ernie Irvan
Special Edition Interview, as heard at Flamboro Speedway, June 25
- Smokin' Joe Chisholm RTR talks with 'the Iron Man' Gary Elliott
- Joe Chisholm RTR discusses ROC with NASCAR Legend Kenny Schrader
Special Edition Interview, as heard at Flamboro Speedway, June 18
- Smokin' Joe Chisholm RTR talks with 'the Rocket' Randy Rusnell
- Joe Chisholm RTR discusses ROC with NASCAR's 'Mr. Excitement' Jimmy Spencer
CONFIRMED ROC ENTRANTS, BY INVITATION:
1 – JR Fitzpatrick, Cambridge
John-Ryan Fitzpatrick is a Flamboro alumni, having started his career racing in the Junior Cascar class. He has proven success in every weekly class – Mini Stock, Thunder Car and Late Model – and graduated to run in the National tour. He is the youngest CASCAR champion, and has competed in a number of NASCAR Nationwide and Camping World Truck Series events.
2- Randy 'the Rocket' Rusnell, Cambridge
Randy Rusnell is a multi-time Thunder Car champion of Flamboro Speedway, including four consecutive division titles from 2007 to 2010. Rusnell continues to race in the Thunder Car class, exploring new racing terrain at Sunset Speedway in 2011.
3- Mike Poulton, Oshawa
Mike Poulton is a three-time past champion of Flamboro Speedway, including back to back division titles in 1995 and 1996 racing in the Challenger class. He later moved north and continues to compete at a number of north-eastern Ontario speedways with great success, including a division championship at Mosport Speedway in 2000.
4- Jim 'Polish Prince' Beleskey, Orillia
Jim Beleskey has raced in the Thunder Car class at Barrie Speedway for the past 10 years, occasionally joining a field at Sunset Speedway. In 2010 he earned the Barrie Speedway championship in a dominant fashion, wining 7 of 13 main events and never worse than a top 3 finish. Known in the North as the 'Polish Prince', Beleskey cooks polish sausage on his exhaust manifolds during feature races for good luck.
5- Gary 'Iron Man' Elliott, Waterdown
Gary Elliott is a multi-time open wheel champion in the Canadian Vintage Modified tour and a current competitor in the Grisdale Late Model division at Flamboro Speedway. His career spans five decades, greater than 40 racing seasons, and a record holding 38 consecutive year partnership with Quaker State motor oil.
6- Trevor Monaghan, Dundas
Another alumnus of Flamboro Speedway, Trevor Monaghan made his debut in 1995 racing a street stock to victory lane in his first season. He would go on to race Limited Late model and record a number of wins leading to a championship season in 1999 when at the age of 18 he scored 12 main event victories in 24 outings. Recently he has made several appearances in the NASCAR Canadian Tire series, including the 2010 Honda Indy in Toronto.
7- Marty Monette, Hamilton
Marty Monette is a contending force who has made his competitive presence known at Flamboro Speedway invitational events in recent years. Most recognized for a dust-up with Shawn Chenoweth late in 2009 - a video that became a controversial YouTube sensation in the racing community.
8- Matt Clarke, Durham
Matt Clarke is the reigning champion of Thunder Car racing at Varney Motor Speedway, the Durham based high-banked oval often recognized as Ontario's grassroots version of Bristol Motor Speedway.
9- Willie Reyns, Cobourg
Willie Reyns is the current Thunder Car champion of Kawartha Speedway, a Peterborough-area wide lane 3/8 mile high-speed asphalt oval.
10- Scott Way, Fergus
Scott Way is a two-time Thunder Car champion of Varney Motor Speedway, and the 2010 champion of Flamboro's Frost Fest invitational event.

QUALIFIED ROC ENTRANTS, BY APPLICATION:
Frank Davey, Sunset Speedway
Jeff Showler, Delaware Speedway
Donny Beatty, Kawartha Speedway
Kevin Gallant, Flamboro Speedway
Joe Adams, Sauble Speedway
Paul Howse, Flamboro Speedway LM
Ken Grubb, Sauble Speedway
Dave Doucette, Sunset Speedway
Leonard Johnston, Barrie Speedway
Dave Habel, Flamboro Speedway
Todd Musker, Capital City Speedway
Andy Ford, Sunset Speedway
Steve Brook, Flamboro Speedway
Thayne Hallyburton, Barrie Speedway
Herb Walters, Barrie Speedway
Shawn Chenoweth, Flamboro Speedway (LM)
Gregg Rauscher, Merrittville Speedway (dirt)
TJ Woolsey, OSCAAR
QUALIFIED ROC ENTRANTS, BY FLAMBORO POINTS ( as of June 12, 2011) :
Kevin Albers, Rockton
Shawn Arnott, New Hamburg
Brad Collison, Cambridge
Nick Troback, Hamilton
Steve Perry, Hamilton
Rick Burbridge, Brantford
Nick Roth, Baden
Dennis Cybalski, Hamilton
Bobby Mercer, Dundas
Gary Slama, Milton
Jeff Bean, Stoney Creek
Linda Dean, Waterdown
Mike Van Slingerland, Milton
Bill Pearsall, Puslinch
Lloyd Bowman, Cambridge
Mark Burbridge, Brantford
Rob Istead, Burlington
Joe Trafford, New Hamburg
Jeremy Bean, Stoney Creek
Scott Laporte, Hamilton
BUBBLE CAR ENTRANTS, BY FLAMBORO POINTS:
Paul Huskins, Kitchener
Kevin Gallant, Freelton
Wayne Phillips, Burlington
Dave Habel, New Hamburg
ARTICLES & ANNOUNCEMENTS
July 4, 2011 - Race Time Radio on theScore SIRIUS Channel 98, Interview with drivers, post-ROC wrap-up
June 28, 2011 - Race Time Radio on theScore SIRIUS Channel 98, Interview with announcer JP ROC pre-race speculation
June 13, 2011 - Race Time Radio on theScore SIRIUS Channel 98, Interview with Gerry Paxton announcing ROC Roster
April 4, 2011 - Mikey Likes It! Former Champion to Return for Canada Day
March 23, 2011 - Rocket Rides Into Sunset, Returns for ROC, a JP Interview with Randy Rusnell
March 22, 2011 - Race Time Radio on theScore SIRIUS Channel 98, Interview with Jimmy Spencer and JR Fitzpatrick
March 21, 2011 - NASCAR Stars Jimmy Spencer and JR Fitzpatrick on Race Time Radio, March 22nd
March 21, 2011 - Fitzpatrick First to Confirm, a JP interview with JR Fitzpatrick
March 14, 2011 - Official Press Release: Ticketmaster Offers Advance Tickets for ROC Event via TicketWeb
March 10, 2011 - Official Press Release: NASCAR Stars Racing Local Cars
March 8, 2011 - Race Time Radio on theScore SIRIUS Channel 98, Interview with Gerry Paxton about the Race of Champions
March 7, 2011 - Race Time Radio FM broadcast, Interview with Gerry Paxton about the Race of Champions
March 3, 2011 - Official Press Release: Race of Champions Announcement
March 2, 2011 - The Event Announcement from Hamilton Scores
March 2, 2011 - The Event Announcement from the Hamilton Spectator / Guelph Mercury
March 2, 2011 - Breaking News, as heard on the Scott Thompson Show, CHML 900
NASCAR DRIVER BIOS
ERNIE IRVAN – Commonly recognized as Swervin' Irvan, Ernie is a former NASCAR driver and past winner of the Daytona 500, in 1991. He is best remembered for his comeback after a serious head injury suffered at Michigan International Speedway which earned him numerous awards and respect from his fellow drivers. He is inducted in numerous hall of fames and was named one of NASCAR's greatest drivers in 1998.
For more on Ernie Irvan visit: http://www.irvan.com/
KEN SCHRADER – After 20 full seasons in NASCAR's elite series, Schrader still can't wait to put on his helmet, strap in his driver's seat and chase the checkered flag… "I want to spend my time racing," Schrader said. "It's not only my job, but it's also my hobby. I love the time that I get to spend behind the wheel, and as long as I can, I'm going to race whenever I get the chance."
For more on Ken Schrader visit: http://www.schraderracing.com/
JIMMY SPENCER – Mention 'Mr. Excitement' in motorsports circles and there's little doubt about the focus of the conversation. It's Jimmy Spencer. He created excitement throughout his racing career, from the small tracks in the northeast, all the way to NASCAR's premier stage. Now 'Mr. Excitement enjoys a new stage as a cornerstone of NASCAR coverage on the SPEED Channel. Spencer is one of the few drivers to have won in three of NASCAR's top divisions – Sprint Cup, Nationwide and Craftsman Truck Series. It was during his earlier years of modified racing at the bullrings of the northeast that he earned his nickname for his sometimes aggressive racing style.
Cribbed from: http://www.tums.com/Racing/JimmySpencer.aspx